Aqueos wins GLEE Trade Show Pet Health & Beauty Award - Dog Shampoo with Hosepipe Attachment
Aqueos entered the GLEE Trade Show New Product Awards with their new Anti-Bacterial Dog Shampoo with Hosepipe Attachment.
After the selection of the top three products nominations there was a 2 minute pitch on stage in front of the judges and an audience.
The pitch was successful and Aqueos won the category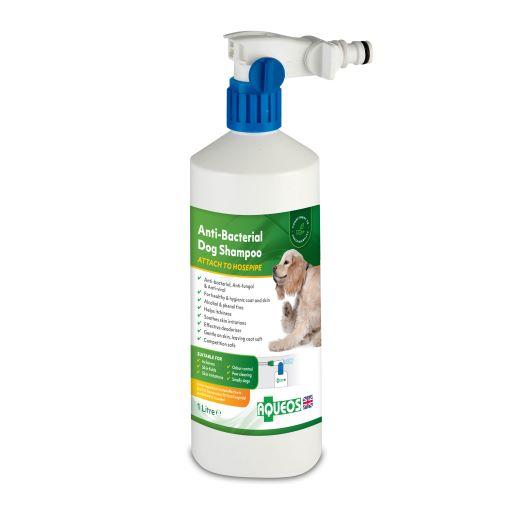 Anti-Viral, Anti-Bacterial, Anti-Fungal & Anti-Itch Dog Shampoo that attaches to a hosepipe and automatically dilutes
This is a versatile shampoo that can be used as an every day shampoo or for a multitude of applications from skin irritations, rashes, itchy skin, general skin conditions or very smelly dogs. This product is very competitively priced compared to the vet-prescribed versions giving relief to dogs.
Attach to a hosepipe with a hoselok or similar fitting, There are two buttons, one for controlling the water and the other to add the shampoo. Wet down the horse and then turn on the shampoo, it automatically dilutes with the water. When finished with the shampoo turn off the button and do a final rinse in water.
Great for a rinse off after a muddy walk.
To achieve maximum impact leave shampoo on dog's coat for 2 minutes before rinsing.
Also available in 1L and 5L bottles
No need to purchase another simply buy the standard 1L Dog Shampoo or 5L and top up.